Conversation with: Chef Mel Dean – Culinary Director of Permata
Published on
By John Stanley Marsh
We sit down with flamboyant Chef Mel Dean and discover some secrets behind his modern dishes infused with Malay and Nusantara tradition.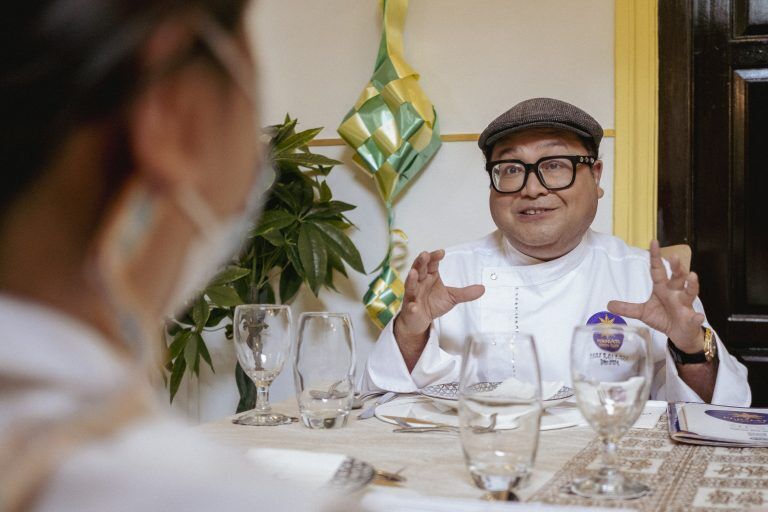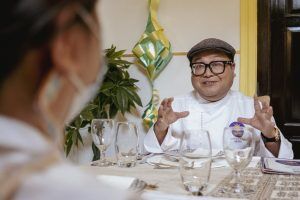 Q: You have a well renowned reputation as a Celebrity chef, Food Consultant, Brand Advocate and Culinary mentor, is there any role you prefer or are fonder of over the others?
Chef Mel: "My overwhelming thirst for exploring the expansive world of culinary science and discovering new frontiers led me to this exciting, extravagant, yet challenging industry. I have personally experienced in my evolving profession that epitomizes the culinary and F&B identity.
I am surrounded by all aspects of gastronomy in my daily life. Aside from also being a former food columnist, I am also an avid author and speaker of culinary arts. Among all the various roles, I would regard myself as a Culinary Creator or Food Architect. I enjoy everything there is by being a Chef and I am thankful to get to live and breathe all these values, from recipe creation to menu engineering, it is part of my life and I am absolutely passionate about that."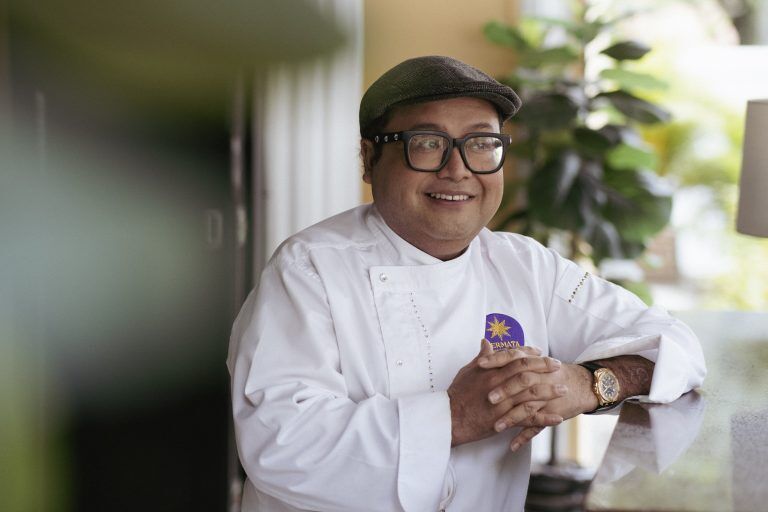 Q: When did you realise you wanted to be a chef? Who are some of your inspirations and what inspired you in your career?
Chef Mel: "To be honest, my fascination before I became a Chef was to be a broadcast journalist. However, as I started cooking, I found that my dishes were able to bring 'Sparks of Joy' to everyone around me. I would get feedback from people who ate my dishes that it would invoke memories of their childhood and allow them to reminisce about the flavours they enjoyed when they had home cooked meals from their grandparents or parents. I felt that through my cooking I was able to connect and reach out to many people. As time went on, I realised that cooking was my calling so I surrounded myself in an environment that would develop my passion for cooking and become a lifestyle Chef.
On my journey there have been many inspirations, some mentors from the culinary world would be Julia Child, Gordan Ramsay, Jamie Oliver, Chef Wan just to name a few, but two of my prime influences would have to be my late grandmother and father. I grew up with their cooking and they brought out the best in me in terms of being passionate about cooking and learning the ropes of running a F&B business."
Q: You have showcased your traditional dishes on both national and international stages, what do you think these dishes can bring in terms of promoting Malay/local heritage to persons that might not have experienced them before?
Chef Mel: "I am an advocate of Malay and Nusantara cuisine and I often describe it as an experience beyond Nasi Padang, Rendang or Mee Rebus. When showcasing the cuisine, people start to understand that it encompasses a very expansive palate. The food culture of Malay and Nusantara cuisine is shaped by nature, history, enormous geographic and cultural diversity across the archipelagos, inspired by the trade in the 1920s and The Malay and Nusantara essence can also be found in other South East Asian dishes and this shows how it has influenced dishes across regions and cultures. As such, I want to ensure that everyone goes through an experience that evokes their sense of smell, sight and taste — transforming into a gastronomical delight, dabbling with a banquet of eclectic Malay /Nusantara flavours and delivering unique dishes with artistry. If I am able to convey this belief to those that try my food, then I have accomplished my goal."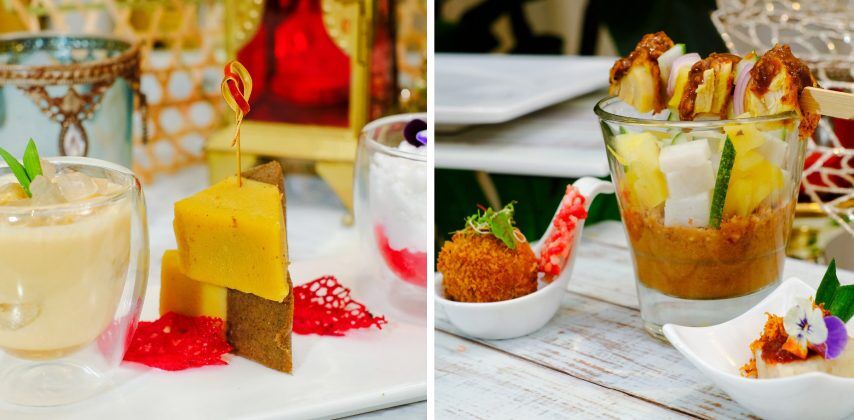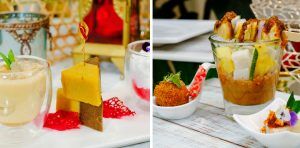 Q: What is the one dish that always brings back happy memories for you?
Chef Mel: "There is a lot of dishes but if I were to single one out, it would be my late father's Nasi Goreng Chilli Kering (Dried Chilli Fried Rice). It brings back a lot of memories for me as I can remember his preparation using a pastel mortar to grind dried chilli with ikan bilis (anchovies), shallots and garlic. He would fry it with sambal belachan and top it off with a sunny side egg. Just talking about it reminds me about how my dad cooked this humble dish when I was growing up. It was comfort food at its best."
Q: Your recipes often have an emphasis on being delicious yet healthy. How do you think traditional dishes have evolved over time to incorporate healthier options?
Chef Mel: "Traditional food culture is integral to the preservation of traditional values but at the same time, it is open for adaptation towards healthier options. Over the years I observed a transformation where people leaned towards healthier food choices. Most people might think that healthy food is bland but I would like to change that perception. I have adapted my recipes to include healthy elements like better choices of ingredients. For most of my recipes, I choose products that have the Healthier Choice Symbol (HCS) or by reducing sugar, utilising lower cholesterol oil and using low fat milk. The method of cooking has evolved as well, we can now use an air fryer instead of deep frying. We can now have healthier prepared food without sacrificing the essence and flavours of the dish. Healthy but still so sedap."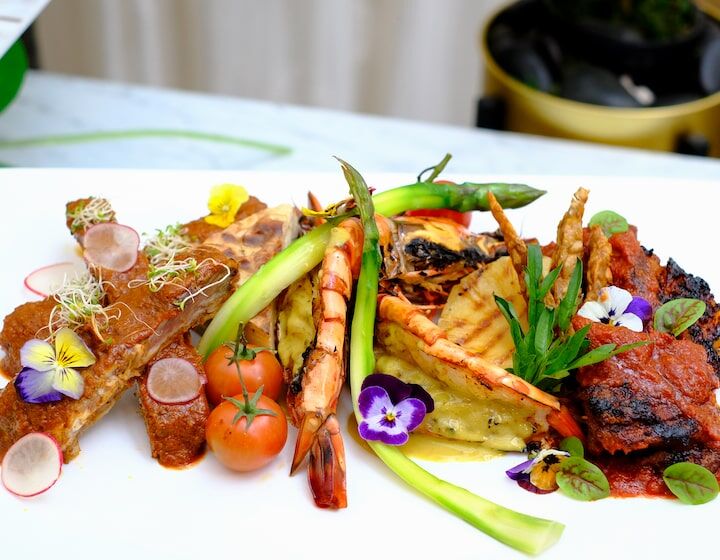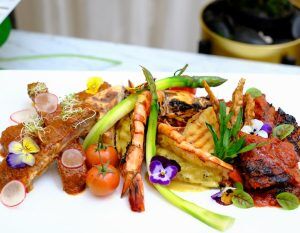 Q: Was there a special reason to create your Permata Singapore special Iftar Menu at the historic Gedung Kuning? Has the heritage of Kampong Gelam inspired you or your menu in any way?
Chef Mel: "Absolutely! I have always dreamed of showcasing the vibrant diversity and indigenous ethnic flavours while highlighting classic Nusantara dishes and desserts presented in a modern artistic plating. This led to my latest portfolio as the Culinary Director at Permata Singapore.
Given that Permata is in the historic and majestic Gedung Kuning, which in itself is located in the heart of Kampong Gelam, it has given me plenty of inspiration. I feel the heritage of the district enabling me to curate a menu that has iconic Malay dishes made famous since the 1940's. One example would be Mee Maidin, originally created by an Indian immigrant man named Mydin, his son Hussein used to cook this dish and sell it around Kampong Gelam after World War Two. Given that Kampong Gelam has its trading roots dating back to the East India Company, I have also incorporated dishes from around region such as Sundanese Chicken Bekakak and Madura Satay Chicken to portray the melting pot of cuisines that were available around Kampong Gelam from the past."
Q: You are the food architect of Chilimex, Sambal & Kari Kapowww, will there any other mouthwatering Kapowww flavours in the pipeline?
Chef Mel: "Yes, not only more cooking pastes, but I am also currently exploring dry rubs that uses various spices for seasoning and marination. My aim is to make it more convenient for people who might have hectic work schedules to cook flavourful and healthy dishes at home. I am also exploring Kapowww branded lifestyle merchandise, so keep a look out in the near future."
Q: You are known for your high tolerance level towards spicy food. What is the spiciest dish you have ever experienced?
Chef Mel: "There are many I have tasted, but I have one Ayam Geprek (Indonesian crispy battered fried chicken crushed and mixed with hot and spicy sambal) recipe that uses a combination of Bird's Eye chilli padi and habanero chilli. It has a Scoville rating around the 600,000 range. Sometimes it is important not only to focus on the flavour of food but also the sensation some foods give you. For this Ayam Geprek dish you are able to feel a tingling on your tongue that makes you sweat and spicy food lovers know it is that rush that makes the dish memorable."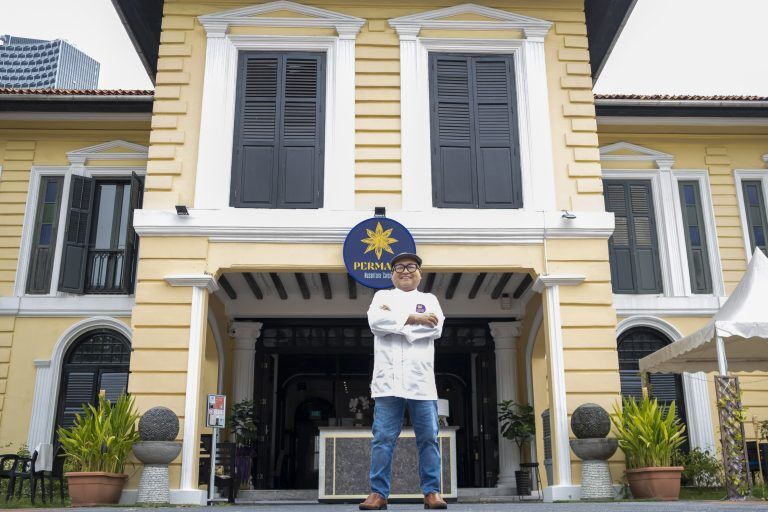 Permata
73 Sultan Gate
Singapore 198497
Email: reservation@gedungkuning.sg
https://www.gedungkuning.sg/permata
Instagram: @permata.singapore