A vibrant oasis of colours surrounded by concrete high-rise buildings, Kampong Gelam's mural-covered streets are arguably the precinct's biggest draw – and a cornerstone in our nation's urban arts scene. With the colliding of past and present, this cultural centrepiece attracts visitors both young and old, local and foreign alike. The place is rife with music, culture and history with an almost festive atmosphere in the air. And amongst all the chaos, there is a collection of art, with local artists from far and wide across Singapore finding their inspiration in this cultural gem. Ahead, discover the street artists who've made Kampong Gelam their canvas, the inspiration behind each masterpiece, and where to find them.
The wall art of Kampong Gelam spans far, with paint and musings splattered across almost every street. The area acts like a public and outdoor art exhibition! But that's not all, while browsing the outdoor wall art gallery, you can make pit stops on all the corner-end stalls and bistros. Rich with authentic Malay food and culture the mini bazaar-like setting creates an eccentric atmosphere. Below are the best wall arts in Kampong Gelam.
While wall hunting, recharge and refuel at the cafes/restos fronted by these murals or those nearby.
Haji Lane/Bali Lane
Location: Piedra Negra, Haji Lane (Corner of Beach Road)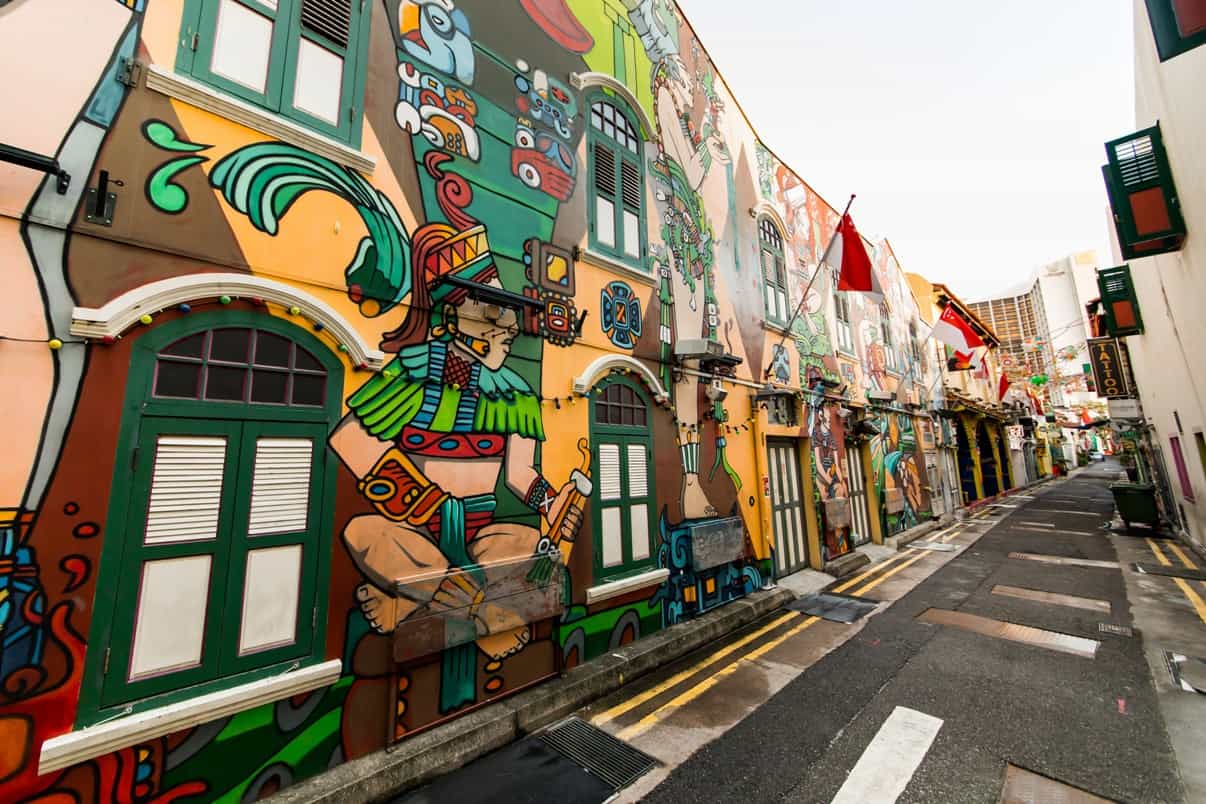 Easily the most famous wall mural at Haji Lane and undisputedly the wall that started the vibrant street art scene here. Attracting throngs of visitors every weekend, this bistro-lined street has a number of good restaurants and cafés. Mostly serving Mexican delicacies, Piedra Negra instantly transports you to the streets of Brazil right here in Singapore. This intricate work of art depicts the Aztecs, the indigenous people dominant in Mexico before Spanish conquest in the 16th century.
The wall is the work of Didier Jaba Mathieu, a Colombian-born graffiti writer and street artist. Mathieu is distinctively known as the artist behind many of the brilliantly coloured murals lining the streets of Haji Lane. He follows a refined and intricate style, paying heavy attention to details and colours. Inspired by his travels and experience as a concept artist and digi matte painter with Lucasfilm, Mathieu brings the richness and vibrancy of Mexican culture to life in his murals.
Location: Piedra Negra, Junction of Ophir Road and Beach Road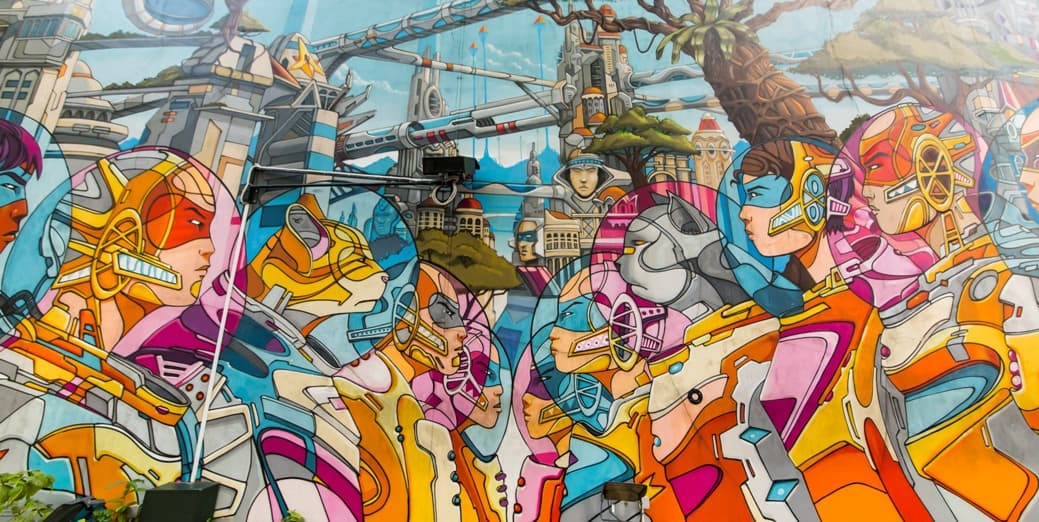 Another gigantic mural by Jaba on the sidewall of Piedra Negra facing Ophir Road that is hard to miss. This complex futuristic-looking piece was done in phases and fully completed in May 2018.
Location: Punjaby Dawat & Blu Jaz Café, 9 & 11 Bali Lane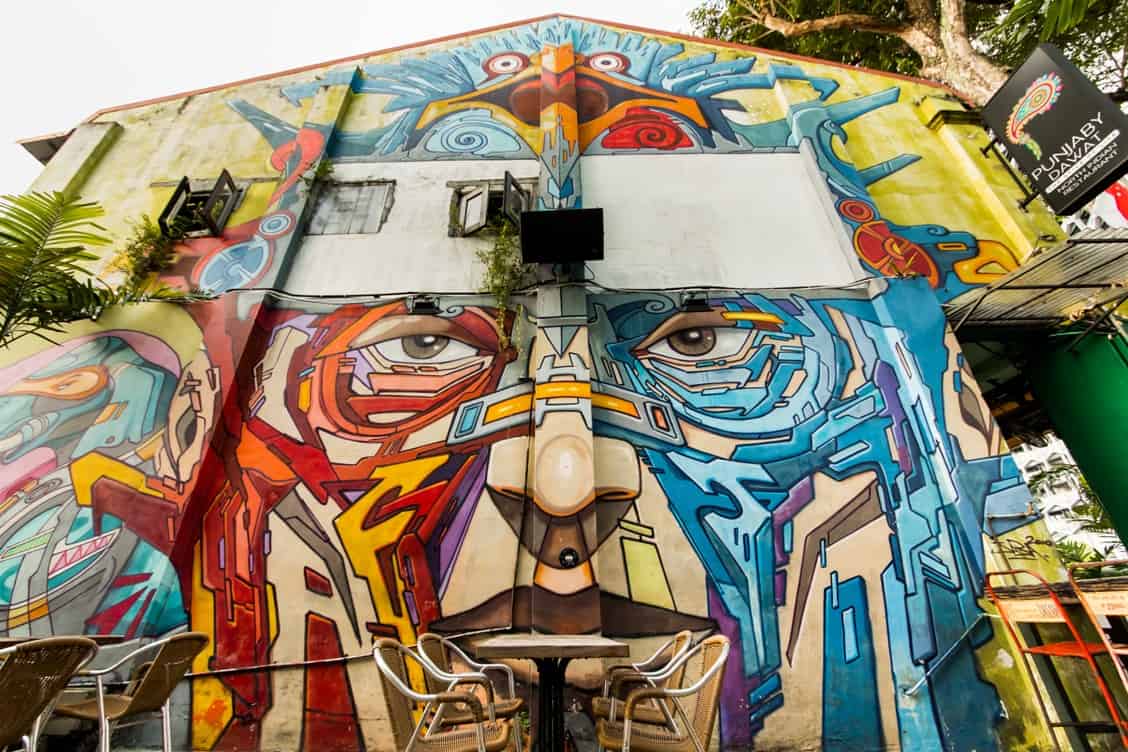 Another Jaba's piece, commissioned by the owner of Blu Jaz Café. This wall is by the side of Punjaby Dawat that shares the same alley as Blu Jaz Café, a popular eatery known for live band performances. Its bold and vibrant colours instantly grab one's attention.
Location: Italian Bakery, 23 Haji Lane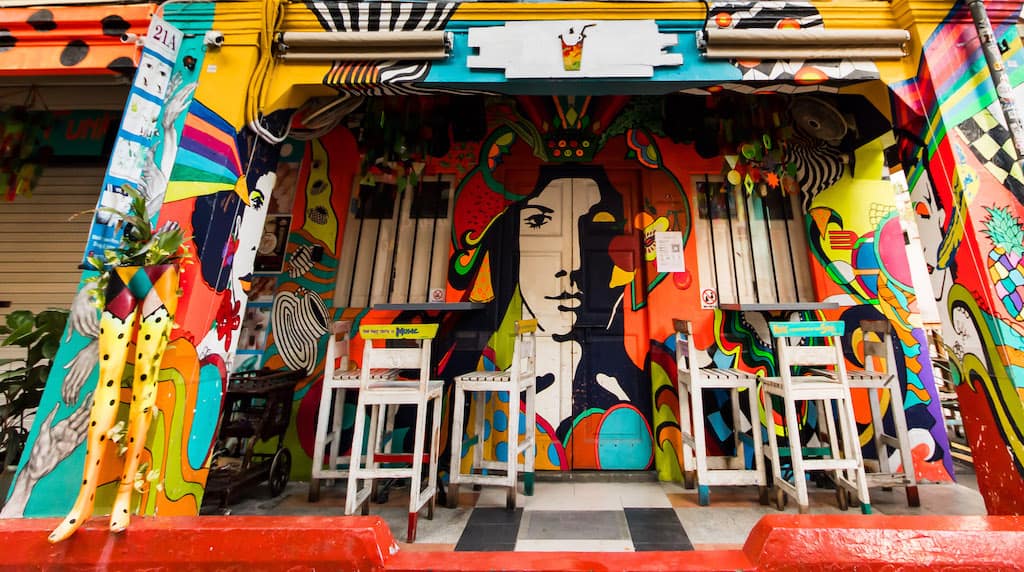 Funky pop art by multi-disciplinary artist Idris Johor, who goes by the handle PrettyFreakyFantasy, line the pillars and the interiors of the cafe. Almost all of his artwork radiates a feel-good factor; in his words: "I want people to smile when they see my work". You can find another of his equally vibrant wall mural at Gelam Gallery. Hear it from the man: https://youtu.be/FNezBEmNSss
Location: Black Sheep & Co, 26 Haji Lane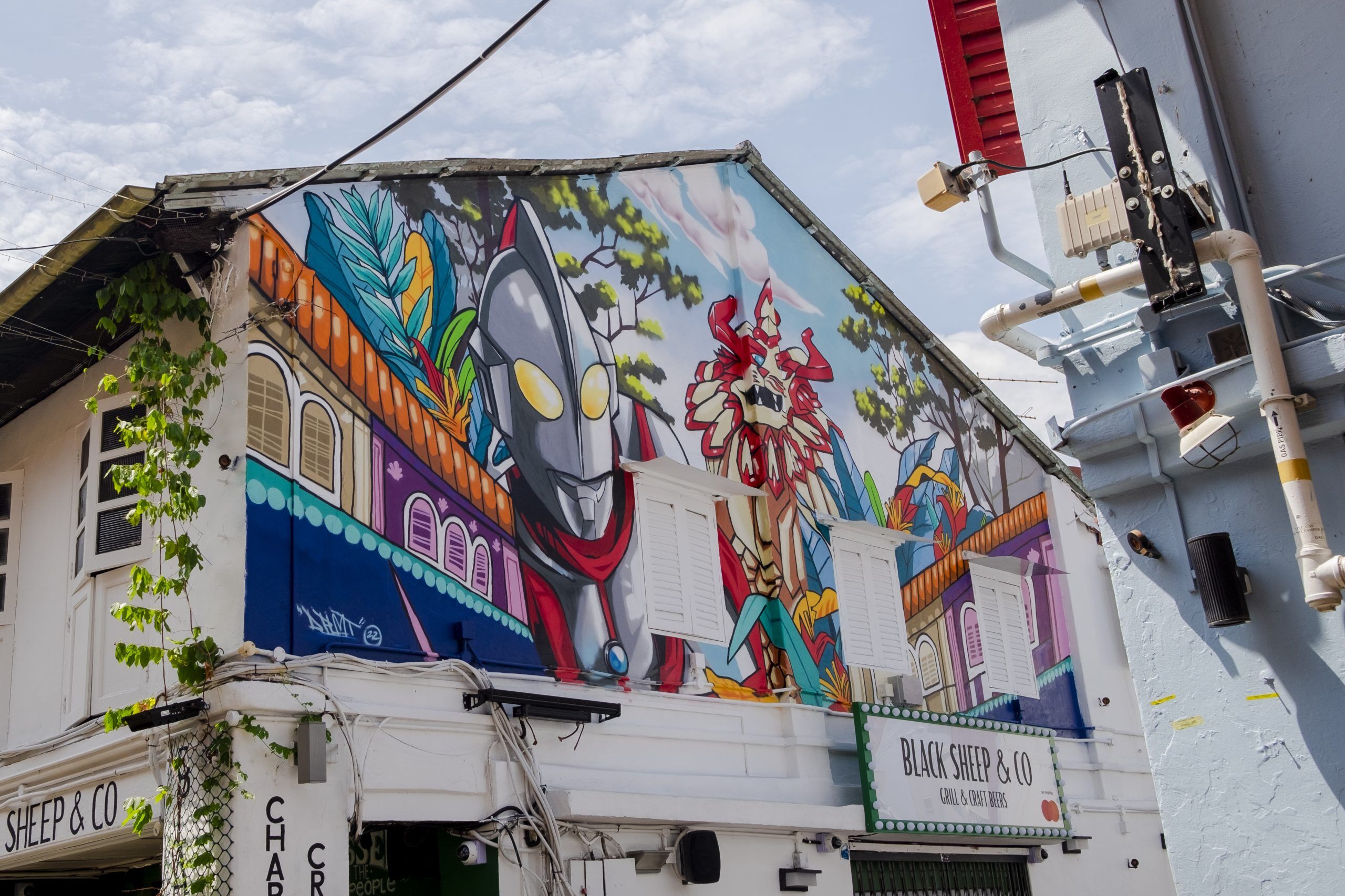 Ultraman and the superhero version of the Merlion, a mural created by the artist collective DPLMT, is the latest to go on display in Haji Lane. In a new tourism video commissioned by the Singapore Tourism Board (STB), the Merlion, Singapore's beloved icon which marked its 50th birthday in September, has been transformed into a superhero. The video is designed to celebrate the national symbol of Singapore.
Sultan Gate
Location: Sultan Arts Village, 71 Sultan Gate
Right next to the Malay Heritage Centre is the Sultan Arts Village where you'll find fascinating street art and graffiti by both local and international artists. It's also home to The Blackbook Studio, Singapore's first physical graffiti store and the official distributor of loop colours. In the courtyard, there's a 14-metre long practice wall where artists will meet and just paint for fun.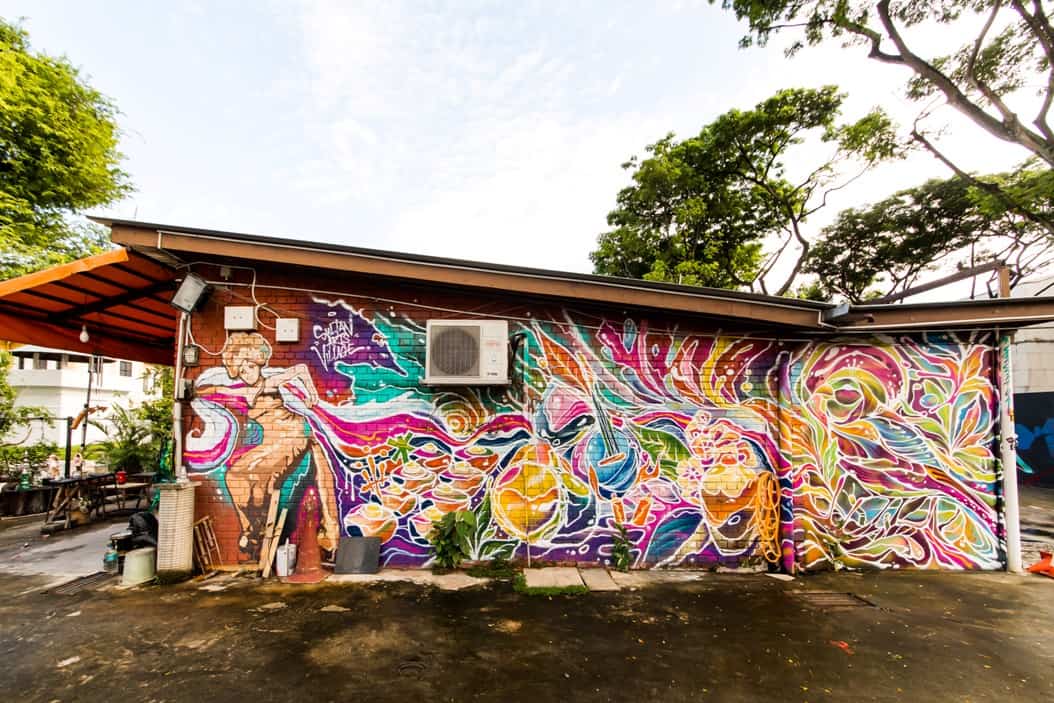 The original Batik piece by Slacsatu. You can find a few other versions of different style around the neighbourhood.
Nearby Eateries: The stretch of Kandahar Street that runs parallel to it is lined with restaurants offering different cuisines: Rumah Makan Minang, a casual eatery loved by the locals for its beef rendang and Cicheti for heart-warming Italian food. A hidden gem is Rich and Good Cake Shop, with their deliciously fluffy Swiss Rolls at affordable prices.
Location: Dhia Restaurant, 29 Sultan Gate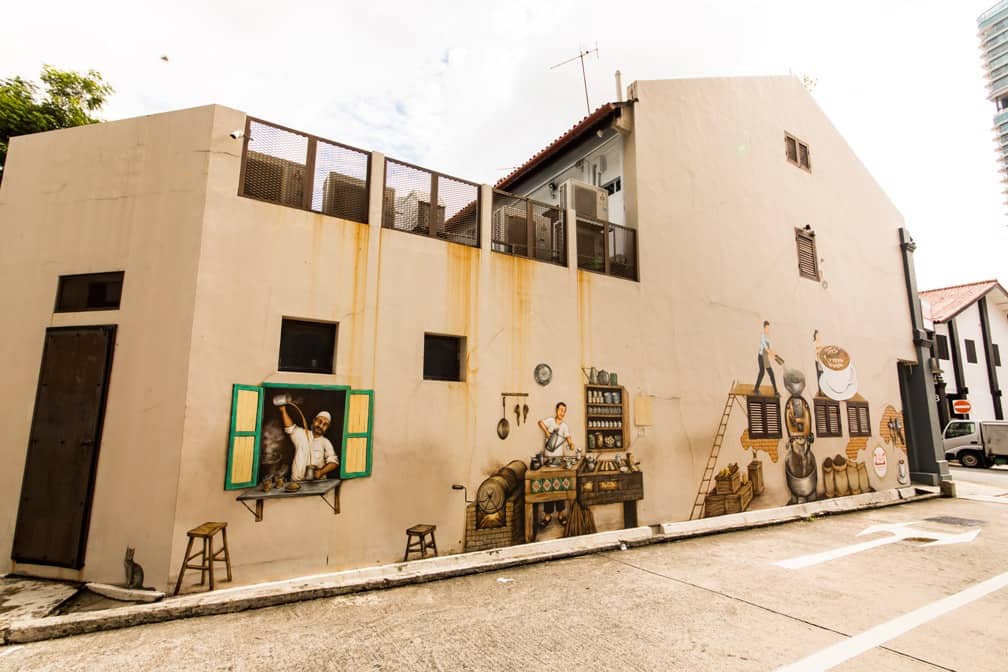 Coffee Story. This piece was commissioned by coffee roaster ARC which is no longer here. The painting shows an interesting contrast between an old style coffee roaster and a modern hipster coffee roaster. Right now, the space is occupied by Dhia Restaurant.
Yip Yew Chong is a self-taught artist who has painted over 19 murals in Singapore. Inspired by his memories of old Singapore, his murals evoke a sense of nostalgia.
Aliwal Street
Location: Aliwal Arts Centre, 28 Aliwal Street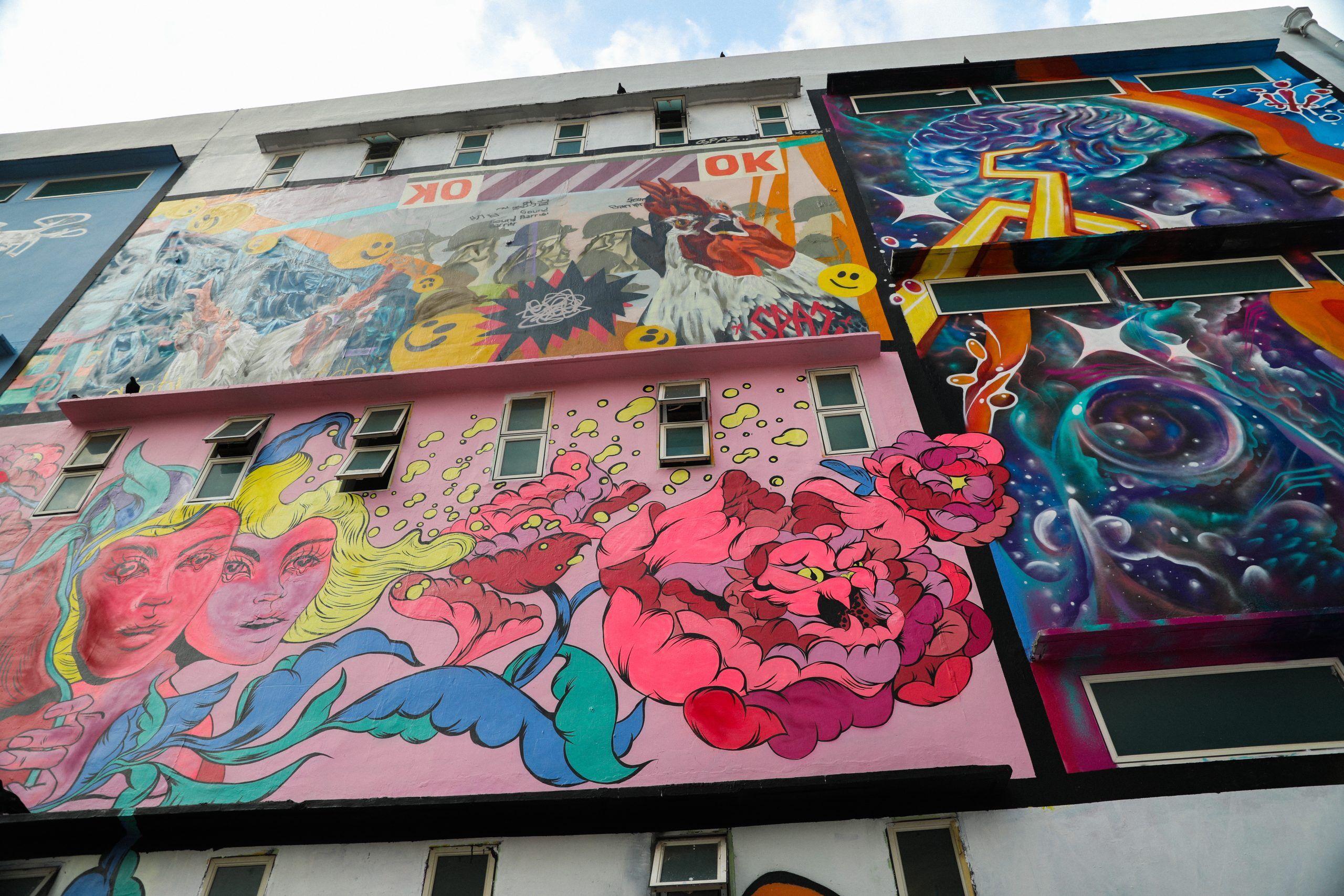 'Reality in Construction' is a large iconic wall on the right side of the Aliwal Arts Centre building. This mural was a joint work by mural artists like Spaz (Laurie Maravilla) and TraseOne (Sufian Hamri) of Urban Collective RSCLS. In addition, painters like Has J, Kristal Melson and Slacsatu joined the ensemble of artists. Reality in Construction offered a unique experience as the public were able to join the artists and flex their artistic skills. The art work which was created through the collaboration between members of the public and artists was launched during the Aliwall Festival in 2022.
Nearby Eatery: Tipo Pasta Bar, a cafe with memorable pizza and pasta experience.
Location: Aliwal Street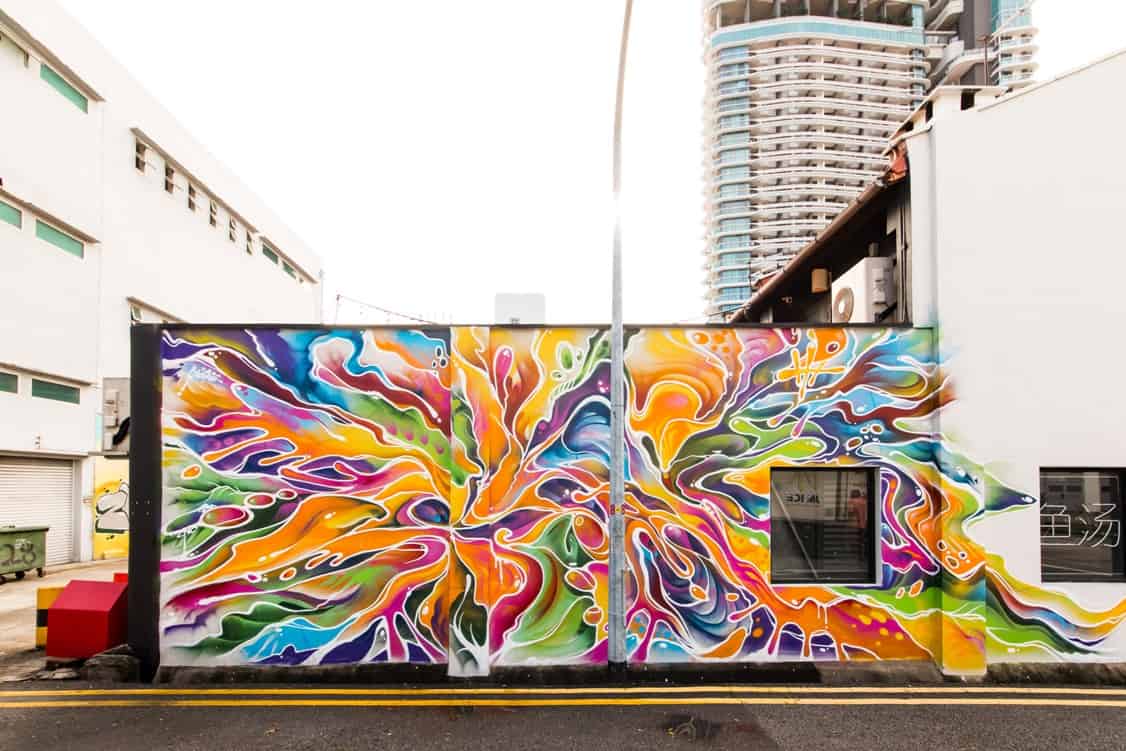 Right next to the side alley entrance of Aliwal Arts Centre is another vibrant Batik-inspired piece by Slacsatu. Part of the Aliwal Urban arts Festival 2019, this batik piece with loop colours is a breath-taking explosion of colours.
Nearby Eatery: Happy Crab, a cozy no-frills open-air seafood restaurant specializing in crab dishes
Baghdad Street
Bejeweled: An Homage To Kampong Intan reminds us that part of Baghdad Street was once where diamonds and precious stones were traded.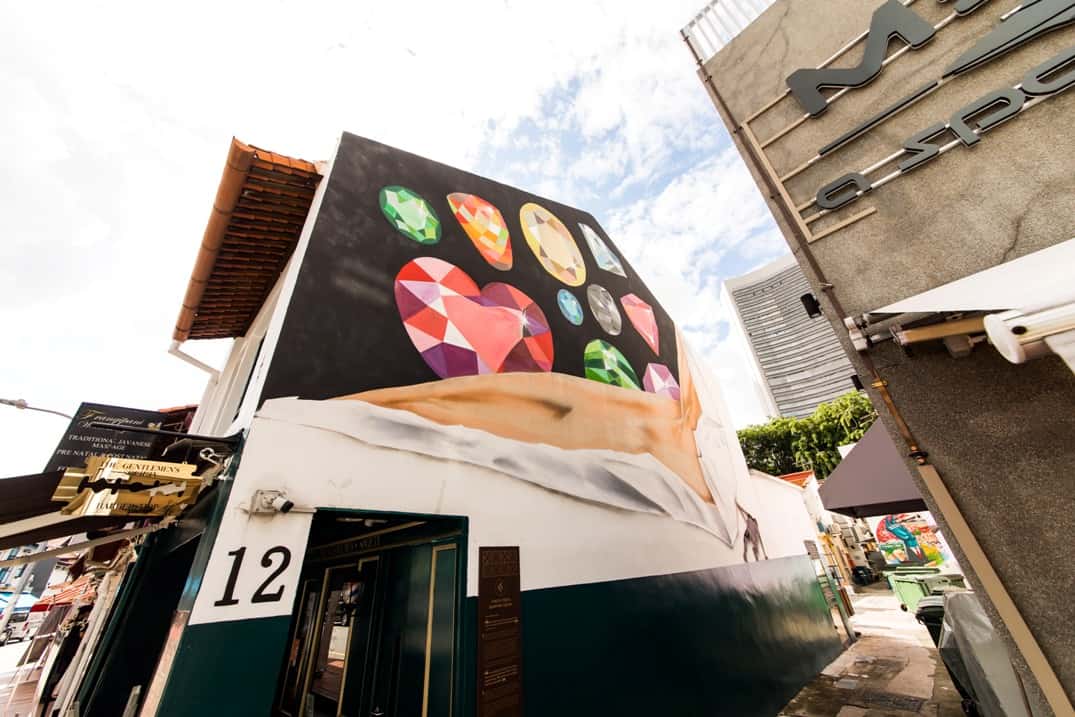 TraseOne is regarded as one of the leading pioneers of the local street art movement. He started off by just scrawling his name on the streets. His approach has evolved to creating a more intellectual dialogue of his art that contains subliminal messages.
Location: Back lane of Baghdad Street
Hidden in the backlane of Baghdad Street is Rise-up by Zero. Try and spot the familiar objects and landmarks depicted here around the neighbourhood.
Zero is the founder of RSCLS. His signature style is mask-life faces and his works revolve around street culture, pop culture and current affairs. RSCLS has a studio at Aliwal Arts Centre and members of the collective can often be found working on the walls behind the building.
Nearby Eatery: Kampong Glam Café, an extremely popular casual eatery serving local Malay food and Western cuisine.
Muscat Street (beside Sultan Mosque) – Gelam Gallery
Separated by Bussorah Street that leads to the mosque are 2 parallel back alleys named Muscat Street. This is where you can find Singapore's first out-door art gallery. There are close to 30 artworks by local and international artists on display here. Framed pieces hang alongside wall murals and commissioned graffiti. The art ranges from colourful modern pieces to works reflecting the culture and heritage of the neighbourhood.
Check out the few pieces below that show the range but nothing beats seeing them in person, with a camera in hand of course.
Framed artwork by Lasalle graduate Sararuddin Abdul Hamid (aka Dyn) at the entrance from Baghdad Street. He draws inspiration from the heritage and varying aspects of the area.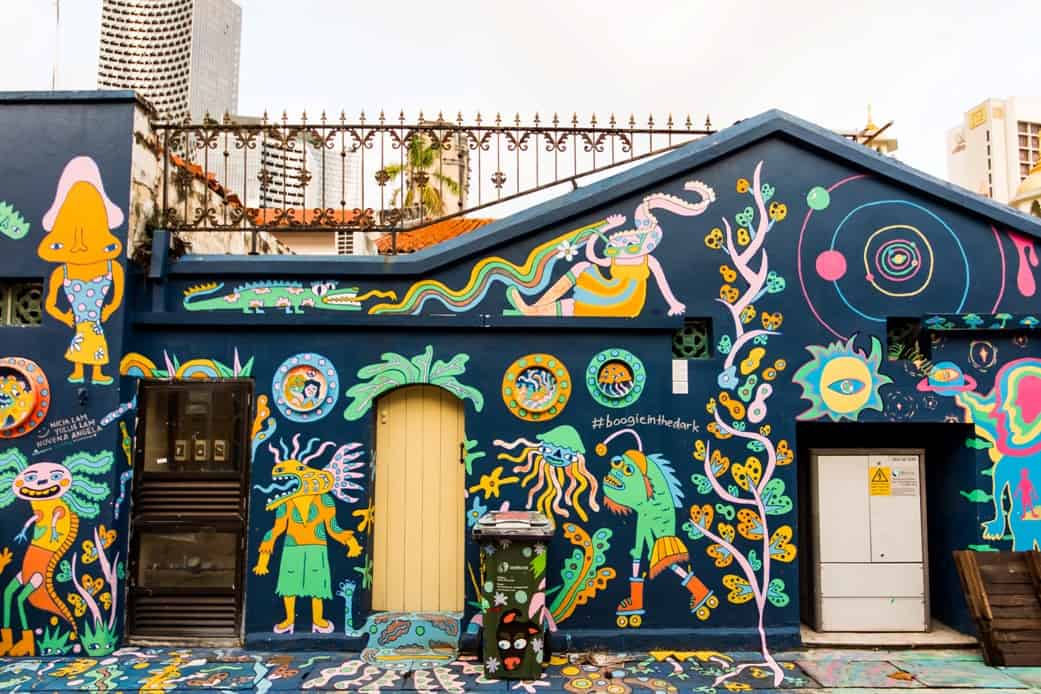 Boogie in the Dark by artists Nicia Lam, Yullis Lam and Novena Angela. The vibrant artwork depicts sea creatures at an underwater disco-themed party.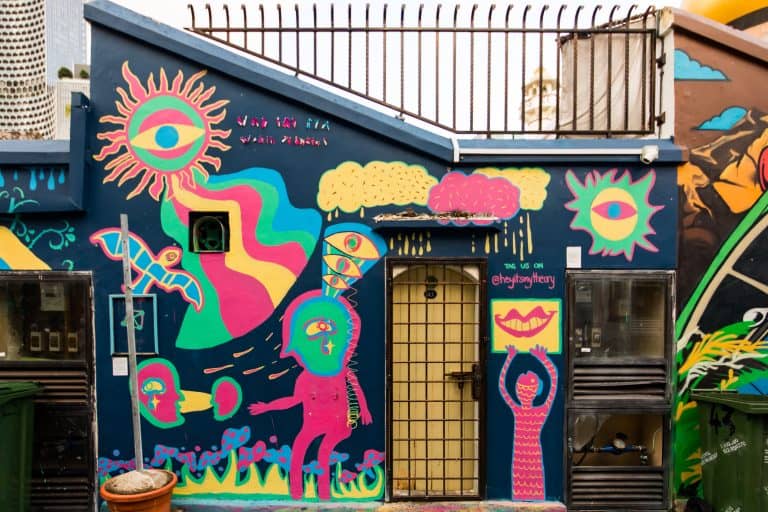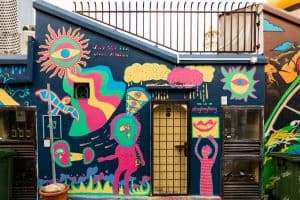 llustrator and graphic designer Liyana Farzana Binti Zaihan experiments with colours and art forms with her works.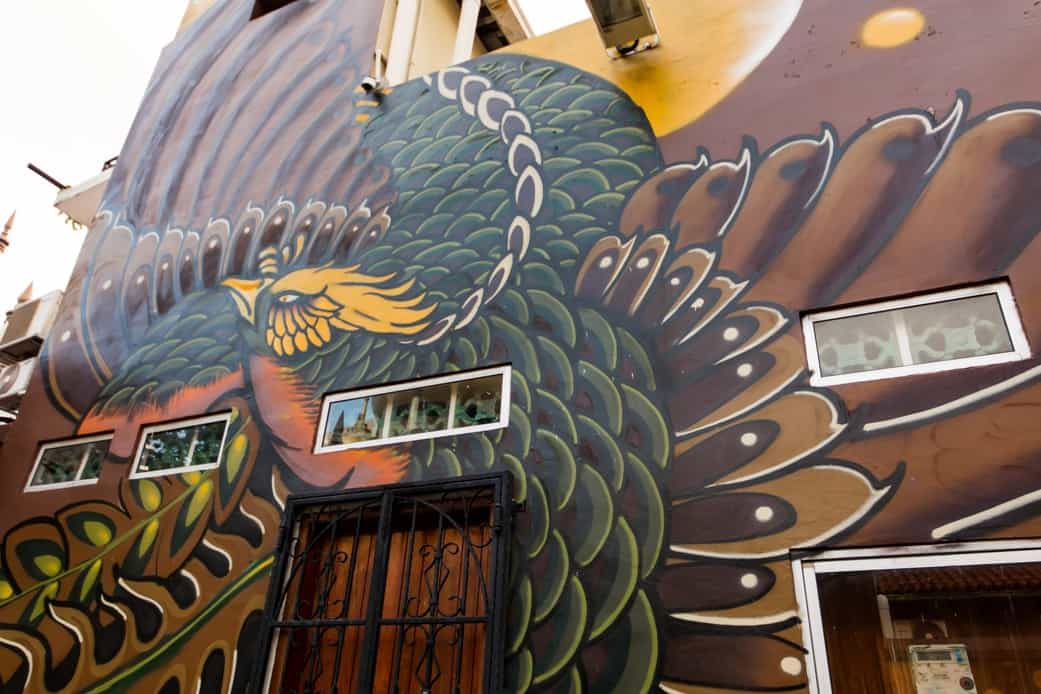 Japanese tattoo artist Sei Nishiyama does large-scale tattoos and goes by Sei10 on the walls. This will make a pretty stunning tattoo on someone's skin.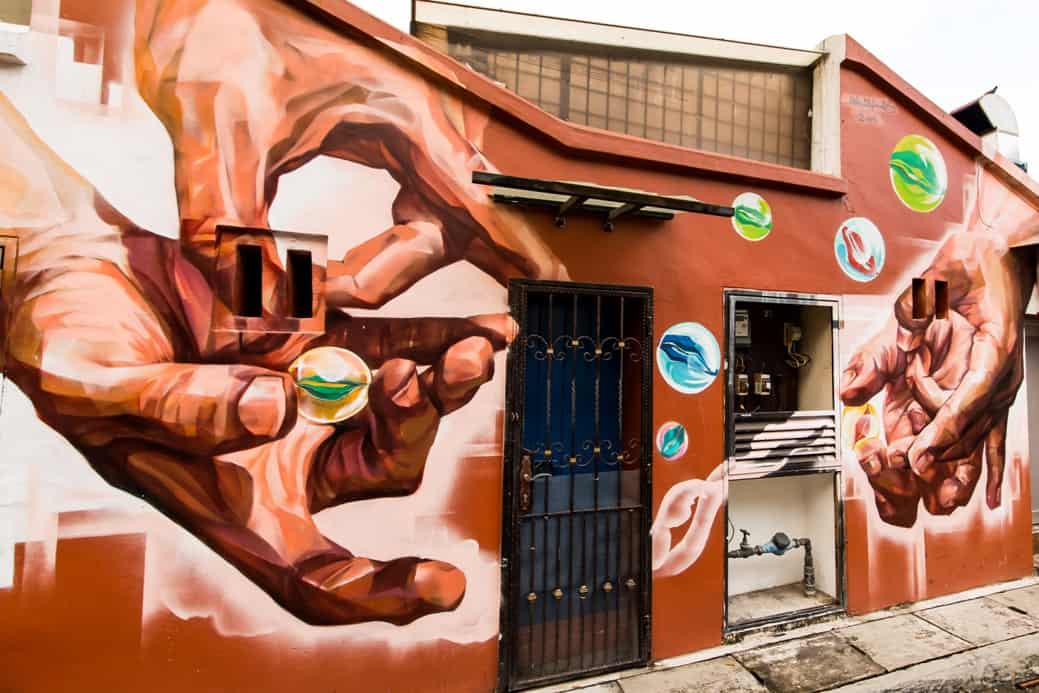 Hands and marbles by Malaysian artist Andharas. Hailing from Malaysia, Amir Andhar, who specialises in mural art painting, got his start in the art world by picking up basic techniques from his airbrush car painter father. The art piece is a throwback to our simple childhood game of playing marbles on the ground.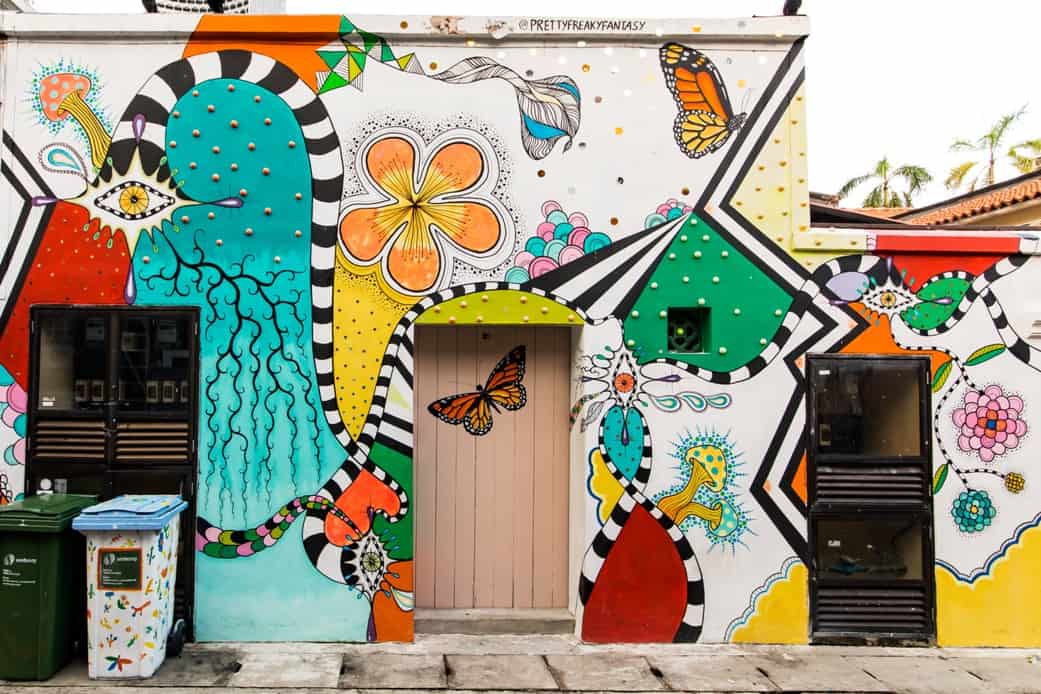 A whimsical piece by multi-disciplinary artist PrettyFreakyFantasy, known for his pop culture elements in bright and bold colors. His murals and interior decoration pieces can also be seen at Blu Jaz Café, Piedra Negra, and Italian Bakery along Haji Lane. He got his moniker based on the elements from his art. Pretty would be the butterflies and flowers, freaky represents the eyes with tentacles and fantasy captures the surreal feel of the whole effect. PFF tries to emphasise the feel-good factor in all his artwork. In his words, "I want people to smile when they see my work."
Just in front of the Muscat back alleys is Bussorah Mall, where you can find a myriad of Middle Eastern cuisines in Alaturka, Beirut Grill, Byblos Grill, Derwish, Sultan, Taste of Lebanon, Tabbouleh and Turkish & Middle Eastern Cuisine.
Venture across North Bridge Road and walk down the narrow lanes and you will see another wall mural by Ceno2 and numerous others by Ernest Zacharevic or ZACH as he calls himself, a Lithuanian-born multi-disciplinary artist. In 2012, ZACH received worldwide recognition after creating a series of six street art murals for the George Town Festival in Penang, Malaysia, with the BBC calling him Malaysia's answer to Banksy. He is currently based in Penang.
Location: AMC Asia! Building, 18 Jalan Klapa
Commissioned by owners of the buildings AMC Asia! Children in Wheeling Trolleys attract people by allowing them to take interactive photos since the supermarket carts are attached to them. In fact, the trolleys serve another purpose. It is an interactive piece meant to encourage community togetherness. Essential food items are placed in the trolleys regularly so that members of the community and the public at large can help themselves. The goal is to support the less fortunate, while encouraging those who can afford it, to add on grocery items. We think it's a great way to add some vibrancy to the Kampong Glam community while offering a pantry to those who need it!
The vibrant scene which includes Children In Shopping Trolleys, is an amalgamation of five artworks by 22 creatives and students, most of whom work at the marketing company behind the project, amc asia! As creatives and students, we often see art as a means to communicate but seldom view it as a medium of self-expression. We also saw the need to bring colour back into our daily lives, especially amidst the ever-white workspaces we work in.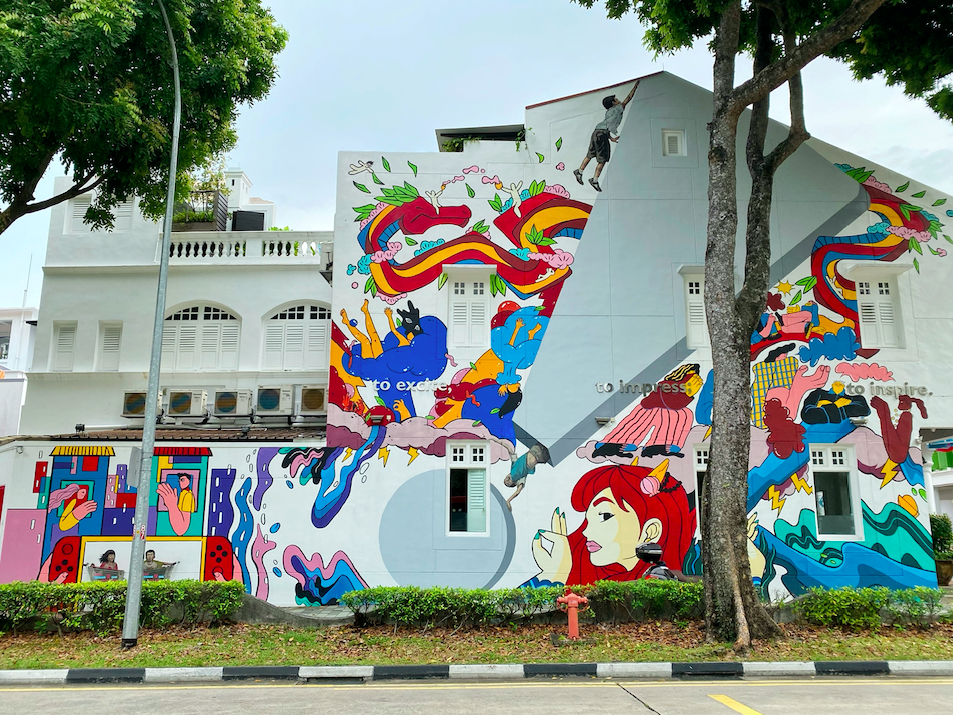 Situated just beside Children in Shopping Trolleys is Boys Climbing In and Out. This mural is interestingly broken into two segments, whereby the continuation of the painting Boy in Window is round the corner of the building.
Nearby Eatery: Kumoya Singapore @ 8 Jalan Klapa, a character-themed Japanese-French cafe.
Location: Victoria Street
ZACH combines fine art techniques with his passion for creating art outdoors. His primary interest is in the relationship between art and the urban landscape, with concepts often evolving as part of a spontaneous response to the immediate environment, the community and culture.
Nearby Eatery: Double Up Coffee, 7 Jalan Klapa
Location: Vintage Camera's Museum, 8D Jalan Kledek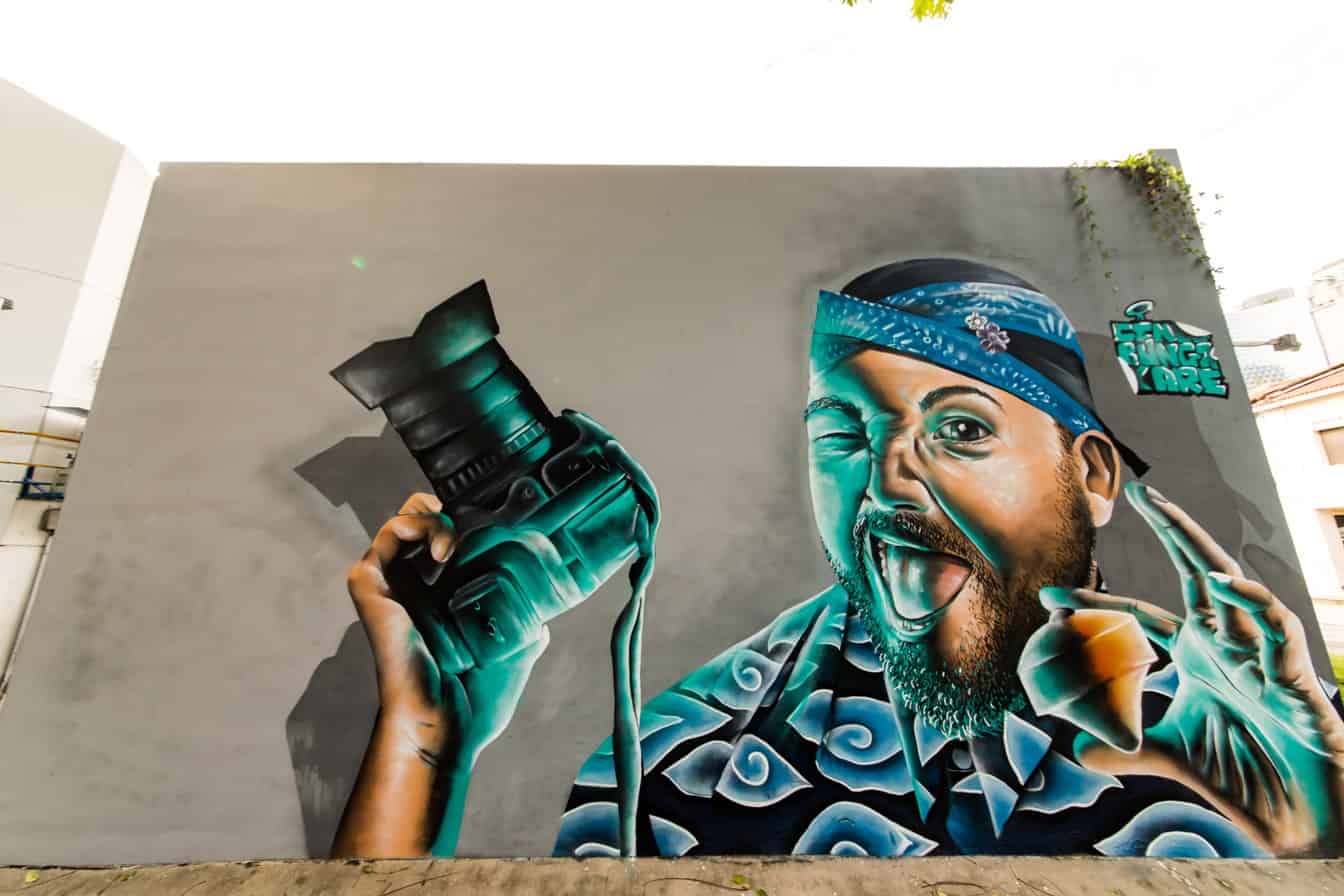 This eye-catching portrait of a man holding a camera is befitting of the Vintage Camera's Museum, a striking building in the shape of a Rollei camera. This piece is by Ceno2, the same artist for the monochromatic wall at The Singapura Club in Haji Lane.
Nearby Eatery: Symmetry Café, a laid back restaurant and bar featuring modern Aussie cuisine.
Location: Wall between Jalan Kledek and Jalan Pisang
Nearby Eatery: Hjh Mainumah Restaurant, serves up traditional kampong-style (village-style) Malay cuisine.