Fish-tales Of Kampong Gelam
Published on
As you wander through the meandering small lanes, you may have spotted fishing shops scattered around the area. Little wonder, as Kampong Gelam was a fishing village from as early as the 16th century due to its proximity to the waterfront. The first settlers were believed to be the Orang Laut (sea gypsies) from the Gelam tribe that lived in a village by the sea who made their livelihood as boatmen, boat rowers and fishermen. They used the bark of the cajeput tree (known in Malay as gelam trees) that used to grow here to make awnings and sails and to caulk the boats.
The opening of Singapore as a British free port by Sir Stamford Raffles attracted trade from the Bugis as they brought cargos of coffee, gold dust, mother-of pearls, spices and tortoise shells during their annual trips, turning Kampong Gelam into a bustling trading hub. During the monsoon seasons in September and October, Beach Road was famous for the wondrous sight of hundreds of tall ships including the Bugis Makassar schooners that sailed in, which added much colour and activity to waterfront that stretched from Rochor River to Kallang River.
The fishing settlements were relocated as a result of development to the area, but its origin as a fishing village lingers on through the remaining fishing businesses here.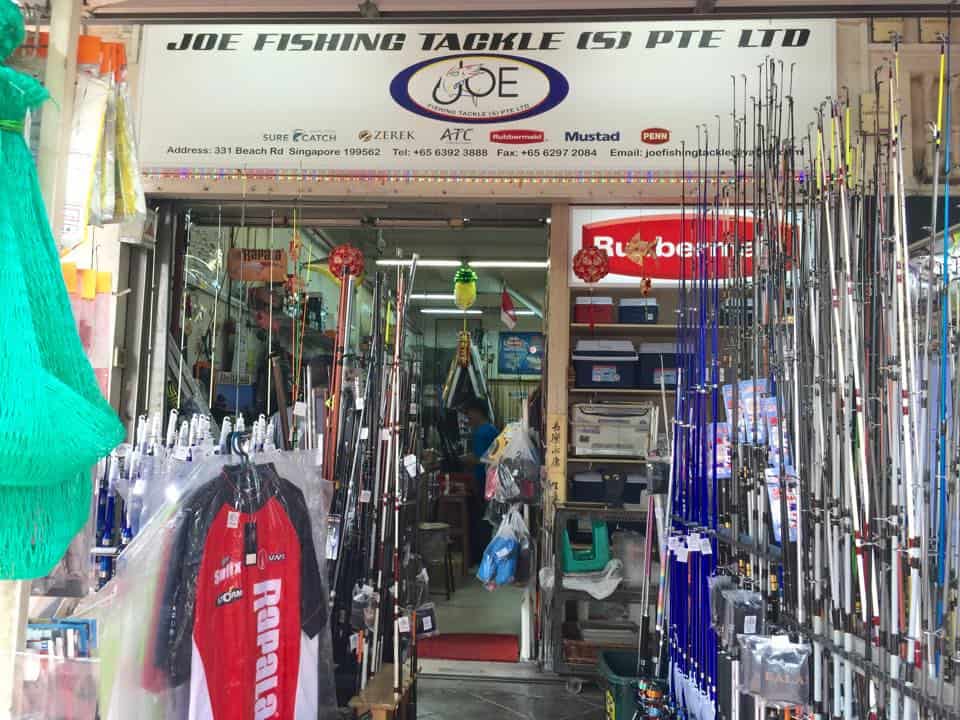 Joe Fishing Tackle is the haven for all fishing enthusiasts. Apart from bait and equipment, the one-stop shop sells live prawns, sea worms and other fishing trip needs. Anglers are promised a whale of a time as they spend the day browsing through many other fishing accessory shops in the vicinity.
331 Beach Road, Tel: +65 6392 3888
Opening hours: 10am – 8pm Monday to Saturday; 10am – 6pm Sunday
Helmed by 3 passionate anglers, Kaiser Pro Fishing Tackle began as a small shop specialising in big game fishing and have now expanded its business to all kinds of game fishing. Find your favourite brand of rods and reels, lures, lines and other accessories any time you wish when you order from their extensive online shop. If not, a trip to their shop is always worth a visit for your next stock-up!
746 North Bridge Road, Tel: +65n6396 6232
Opening hours: 11am – 8pm daily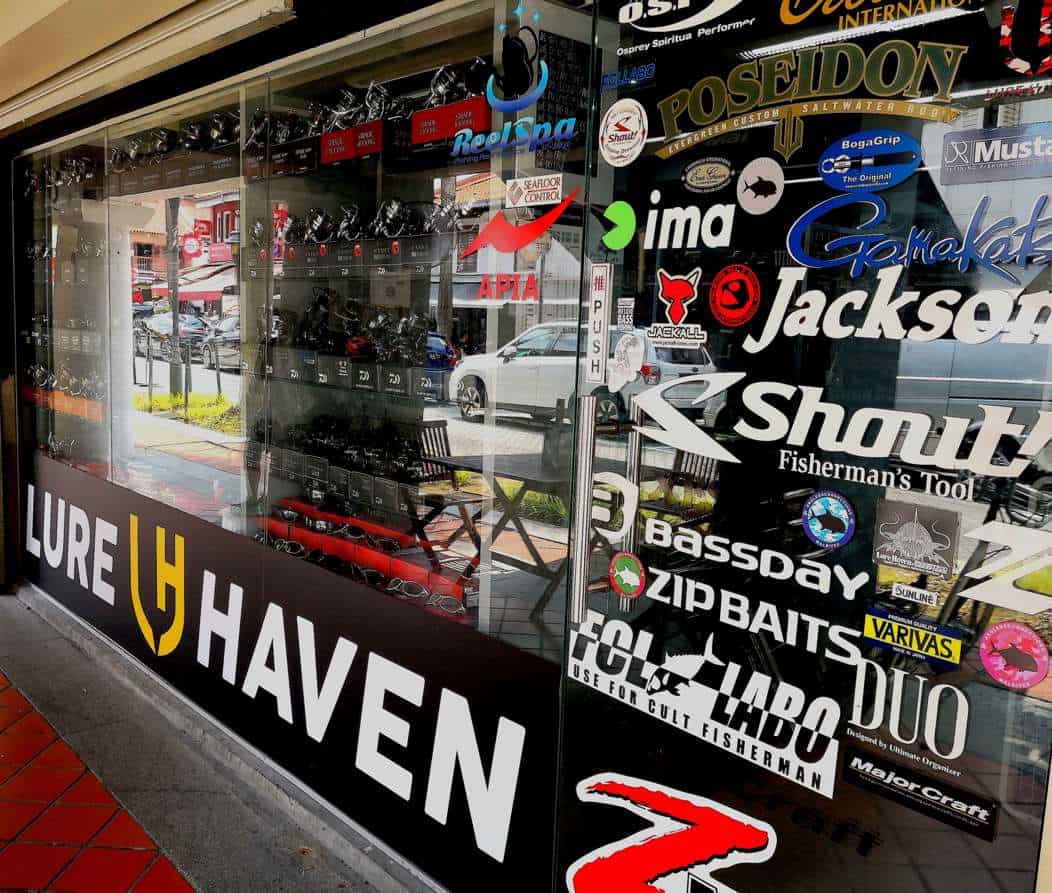 Be prepared to set aside enough time to scour through 3-storeys of fishing essentials. A premium Japanese fishing specialty shop that boasts a range of brands from the Land of the Rising Sun, it is well-stocked with fishing apparel, lines, lures, reels, reel parts, rods, rod parts, tools, hooks, as well as storage solutions. So, before you head out to your next fishing session, make that trip to stock up on all your necessary stash for luring, jigging and popping!
10 Bussorah Street, Tel: +65 6297 4898
Opening hours: 11am – 7.30 pm Monday to Saturday; Closed on Sundays and Public Holidays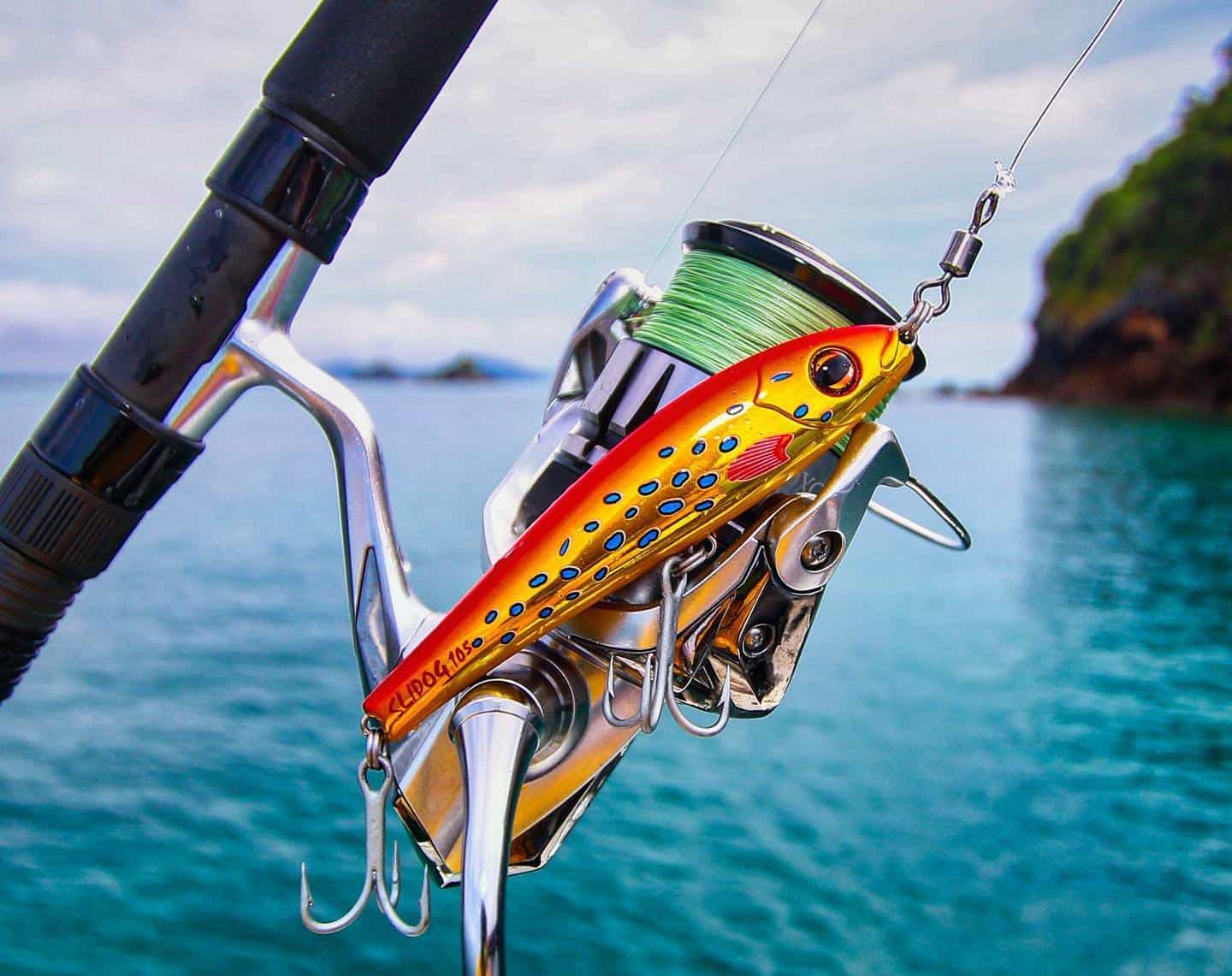 In case you are wondering, swords are not sold here at Sabre Strokers. Instead, a feast of fishing essentials like lures, reels, lines, hooks and other accessories that cater to various types of fishing await you. Professional services like custom rod building and repairs as well as reel servicing and repairs are also available so do cast your line on them soon!
35 Arab Street, Tel: +65 6396 0982
Opening hours: 10am – 7pm Monday to Saturday; Closed on Sundays.