Heritage Streets of Kampong Gelam
Published on
Formerly the seat of Sultans in Singapore and known as the heritage Arab-Muslim quarter in Singapore, Kampong Gelam has undergone many changes in recent years.
Explore the streets which were either named after places in the Muslim world or associated with the Sultanate and various old trade such as spices, textiles, perfumes and gemstones.
Sultan Gate
The story of Kampong Gelam began with the signing of a treaty that allowed the British to set up a Trading Post in Singapore in 1819. Learn about the history by visiting the Malay Heritage Centre which was once Istana Kampong Gelam, the residence of Malay royalty. This explains the name of the road Sultan Gate that leads to the Malay Heritage Centre. The Hokkien name for the road, Ong Hu Khau (palace entrance) and the Tamil name, Raja Kottai (King's palace) further validate it.
If you are interested in art and craft, this quiet street has two galleries for you to explore: Kiah's Gallery showcasing exquisite Malay and Javanese craft and Clay Journey, a ceramic gallery cum workshop.
To experience what the office crowd typically has for lunch, have a drink or meal at Seng Choon Hua Restaurant, a humble coffee shop that serves local Chinese hawker fare. Despite it being a Malay enclave traditionally, Chinese presence in Kampong Gelam emerged in the early 20th century.
Pahang Street
Near Sultan Gate, Pahang Street was once known as "Kampong Dalam" (Malay word for Inside Village) as it was noted that the Malay royal family had priority over this street and would cordon off the area for any of their ceremonies.
Look out for Xi Yuan Foot Spa or Chengmai Lanna Massage Parlour if you need to ease those knots from all the walking. Otherwise, head into Tong Seng Lifestyle Cafe Bar for local and Peranakan food.
Leading to the iconic Landmark Sultan Mosque is Bussorah Mall, a pedestrianised street framed by palm trees and lined on both sides with eateries and retail stores. Check-out these shops with elements of the old trade that used to ply this area: Wardah Books, an interesting Islamic bookshop; Jamal Kazura Aromatics for non-alcoholic perfume and essential oils; and Koleksi Murlia for Malay traditional garments. For a flavour of Malay cuisine, visit Padi@Bussorah or The Malay Council.
The street was named in 1910 after Basra, a city in Iraq but in the 19th century, it served as a gathering place for people embarking on Haj and was known as Kampong Haji (Pilgrim Village).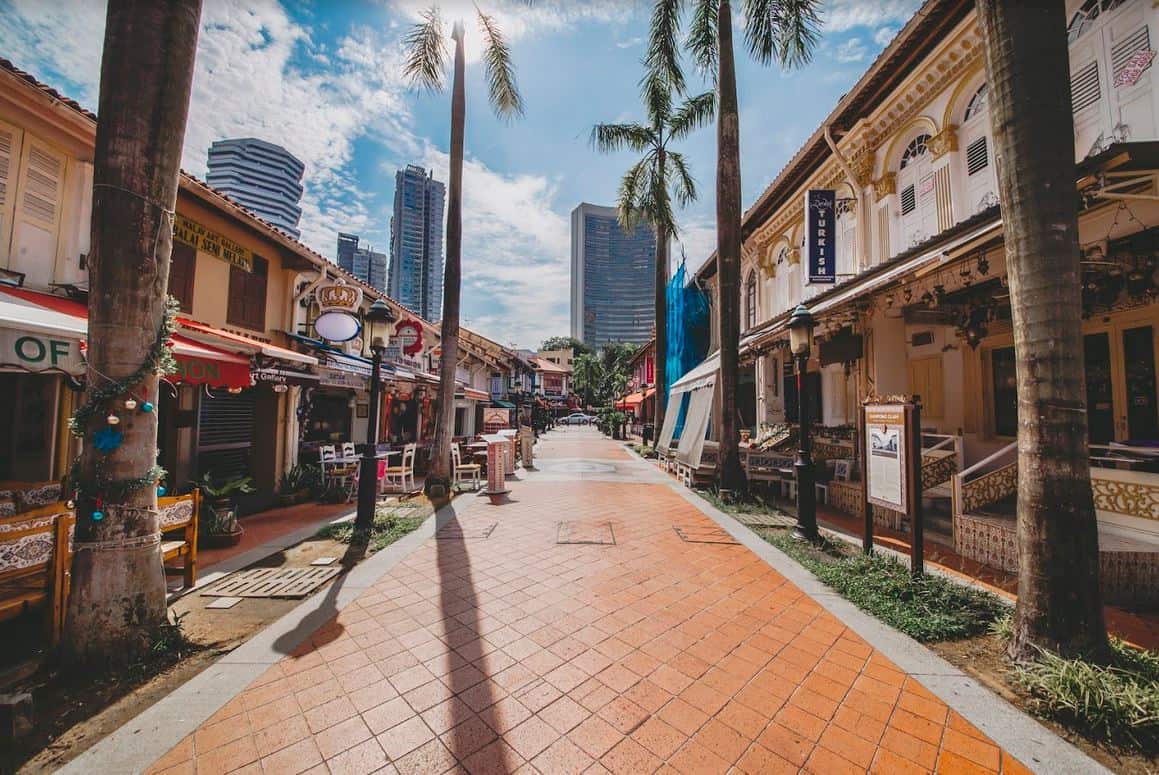 Up until the mid-1970s, Singapore was the pilgrim hub in Southeast Asia. Muslims from around the region would come to Singapore to board the Kapal Haj (Pilgrim Ship) to Mecca, and prayers would be conducted for their send-off at the Mosque. These days, the Sultan Mosque welcome visitors of any faith, where one can take in the grand and solemn atmosphere of this religious ground while learning about the Islamic faith.
Baghdad Street
Cutting across Bussorah Street is Baghdad Street, which used to be referred to as Kampong Intan, or Diamond Village as this was where the Diamond traders and jewellery smiths were based. At one time, there used to be cane-ware stores but these shops have also made way for a myriad of middle eastern and Muslim eateries.
Two very popular stalls with the locals are the Bhai Sarbat (literally pulled tea) stall and Kampong Gelam Cafe, an eatery serving local Malay fare.
Muscat Street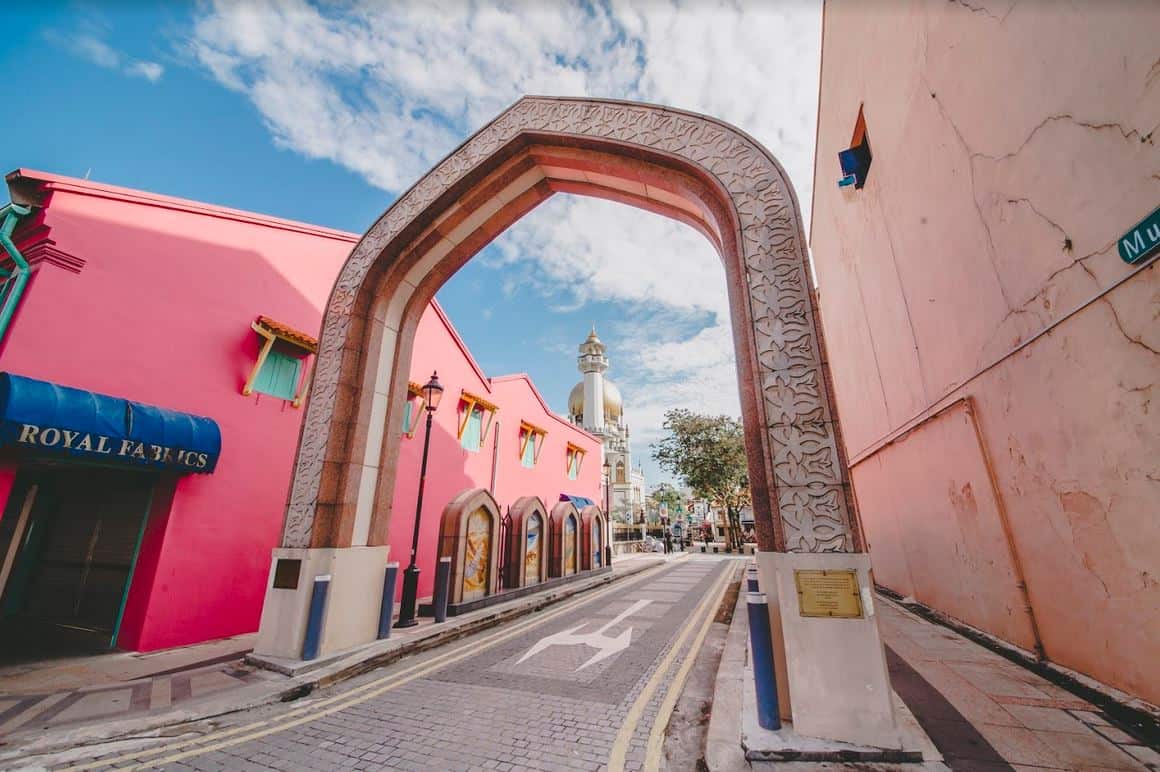 Muscat Street was named after Muscat, the capital of Sultanate of Oman. Both ends of the street are flanked by two eight-metre high granite arches with ornate Omani carvings and at the Arab Street end, a pathway lined with colourful murals depict maritime stories of trades between Oman and Singapore.
A trading hub from the 1800s to early 1900s, Muscat Street was always buzzing with traders doing their dealings as well as devotees frequenting the mosque for their daily prayers. Today, the street is also home to the outdoor Gelam Gallery.
At the end of Muscat Street is Arab Street which was once a part of the original Arab Kampong, owned by an Arab merchant, Syed Ali Bin Mohamed Aljunied. It used to be a textile haven, especially in the 1950s and 1960s. You can still find many of the long-time textile businesses here, along with shops selling haberdashery, oriental carpets, Turkish lamps, perfume, rattan products and Arabian crafts.
You will be awed with the choice of quality textiles and laces at the shops lining the narrow five-foot way. And hard to miss are the colourful Turkish lamps hanging at the shopfronts of Sufi Trading or the exquisite carpets at Serapi Carpets. Continue the sense of mystique with a meal at House of Kebab, a Turkish restaurant or Nasrin that serves Persian food.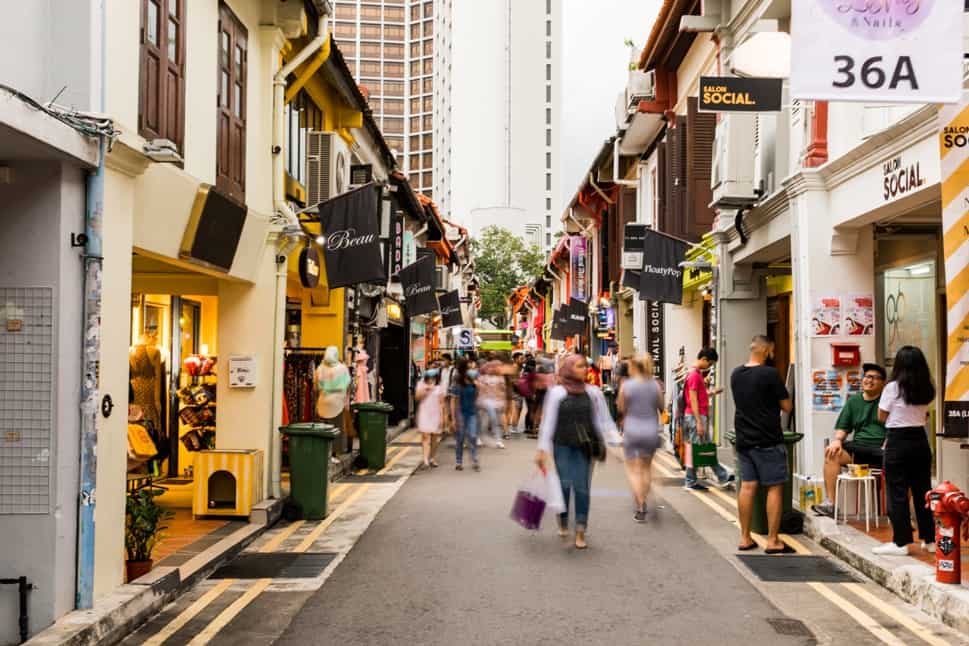 Head down to famous Haji Lane, a hipster hangout peppered with colourful wall murals, overhanging art installations, watering holes, cool cafes, indie boutiques, tattoo parlours, and more.
Looking at the hip stores, it's probably hard to imagine that these shophouses used to house poor Malay families and provided shelter for Muslims on their annual pilgrimage to Mecca. This sense of community spirit is still very much alive today as reflected in the easy camaraderie amongst the shop owners here.
Need a break from jostling with the throngs of Instagrammers? Retreat to the cool respite of Windowsill Pies for some artisanal pies and coffee or cool off with a non-alcoholic cold butterbeer at The Mad Sailors.
Running parallel to Sultan Mosque, North Bridge Road is one of the earliest roads to be built in Singapore and used to be one of the busiest commercial streets in Kampong Gelam. It is thus called because it runs north of Presentment Bridge (present-day Elgin Bridge) across Singapore River.
Businesses were set up by diverse communities and while various trades have disappeared, some long-established ones for almost a century are still around. Today, North Bridge Road is still the place for pilgrimage goods such as money belts used by pilgrims which you can find at V.S.S Varusai Mohamed & Sons, and Attar (essential oil typically extracted from rose petal) at Kazura Aromatics.
An extremely popular Indian-Muslim restaurant that has been around since 1908 is Zam Zam, which serves murtabak (fried bread stuffed with meat) and biryani (yellow rice dish eaten with meat or fish).
Between North Bridge Road and Victoria Street, are a few quaint streets with names that suggest that the area could have been an Orchard once:
Jalan Klapa – Coconut street
Jalan Kledek – Sweet potato street
Jalan Pisang – Banana street
Jalan Pinang – Areca nut street
Today the shophouses along these streets house artisanal bakeries, galleries and eateries offering a wide selection of cuisines.