Luxuriate in Comfort at these Premium Hotels
Published on
As a discerning traveller who appreciates the dedicated service and full amenities of an established brand name hotel, you can take comfort in the knowledge that you have not just one, but 3 excellent choices here. Catering to business and leisure travellers alike, these hotels are also a great staycation destination with the historic and charming Kampong Gelam at their doorsteps.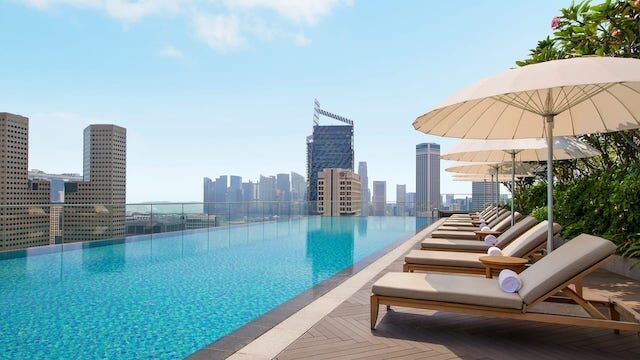 Arriving at the hotel's dedicated entrance at the impressive DUO Residences, you'll immediately know that this is not your run-of-the-mill chain hotel. Walk through the alley to take the lift to the 25th floor, where the lobby of the hotel is located. Enjoy panoramic views of the surrounding cityscape while checking in.
The alleyway concept continues throughout the lobby, which forms part of a greater "living space" that includes Alley on 25, a collection of 5 restaurants and 2 bars in seven "shophouses", and a stunning infinity pool on the same floor. Free refreshments are offered throughout the day in one of the lobby spaces, "Sunroom". During "Andaz Lounge Hour", free wine and beer, including the hotel's signature brew, Andaale Ale are served here.
All the guest rooms have floor-to-ceiling windows with views of the colourful shophouses on the narrow streets around the hotel. More elements of the neighbourhood's influence can be found in the cosy yellow colour scheme, charming wooden folding doors, circular door knockers and mailbox-like room number plaque.
The hotel's rooftop bar, Mr Stork is a destination in itself. It houses 10 teepee huts and relaxed seating set amid lush tropical landscaping for you to enjoy the breathtaking views.
Andaz is a luxury concept hotel by Hyatt. Enrol as a member with World of Hyatt programme to earn points for your stays and enjoy more benefits.
5 Fraser Street, Tel: +65 6408 1234
Open 24 hours daily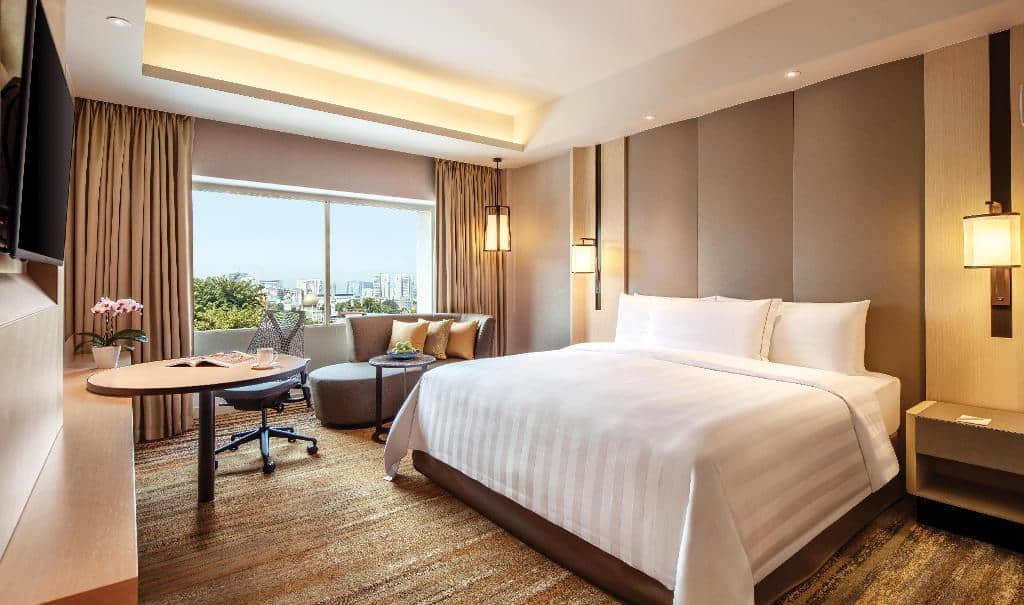 Situated along Beach Road in the City Centre just across from Haji Lane, PARKROYAL on Beach Road is a renowned hotel that lets you relax in comfort.
Checking in at the bright and cheery lobby, you'll be greeted with a warm welcome by the friendly front desk staff. The cheerful ambience continues throughout the hotel which is decorated in a bright colour palette. All the non-smoking rooms are furnished with thoughtful amenities, in-room entertainment that includes cable channels and free in-house movie channels, and free high-speed WiFi are available throughout the hotel for you to stay digitally connected during your stay. The hotel also features spacious family rooms that are great for families with young children, making it an excellent choice for staycations too.
Dining options are available at the all-day dining restaurant, Ginger and the award winning Chinese restaurant, Si Chuan Dou Hua Restaurant. Other facilities include a luxurious Spa, 24-hour gym, an outdoor pool, kids swimming pool and a connected mall.
Providing around-the-clock front desk services, it ensures that there is always a member of staff on call to assist you with any queries whenever you may need. You can also enjoy express and 24-hour check in and check out, enabling you to conveniently choose the service that best suits you.
PARKROYAL is managed by Pan Pacific Hotels Group, voted the best Regional Hotel Chain for 3 years running. To enjoy more benefits for your stay, sign up for Pan Pacific Discovery, the group's loyalty programme.
7500 Beach Road, Tel: +65 6505 5666
Open 24 hours daily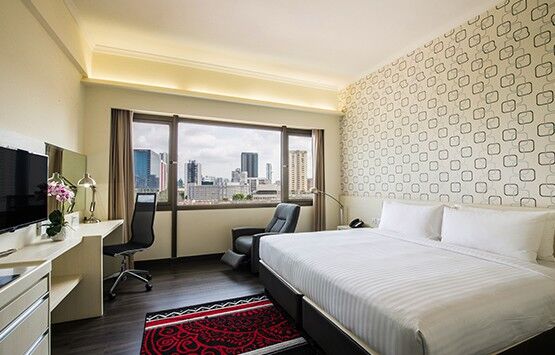 Located directly across Arab Street, Village Hotel Bugis is a perfect springboard for you to explore Kampong Gelam. Bugis MRT Station is a mere 5-minute walk away which makes it extremely convenient for you to get around Singapore.
The spacious rooms are elegantly furnished and equipped with modern amenities such as LCD TV with cable channels, safe deposit box, coffee/tea making facilities, bathrooms with rainshower, and multiple bedding configurations are available to suit your needs. For families with young children, you'll be delighted with the bright and cheery kids-themed family rooms.
There are 2 restaurants within the hotel, with the award-winning Mooi Chin Place offering Chinese Hainanese cuisine and the halal-certified Landmark Restaurant offering a popular buffet spread and ala-carte menu featuring North Indian, Mediterranean, Western and Asian cuisines. An outdoor pool adjoins Landmark Restaurant.
390 Victoria Street, Tel: +65 6297 2828
Open 24 hours daily